An Tearmann - currently closed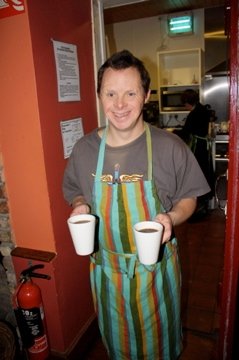 Tearmann (Irish: refuge or sanctuary) is a three-storey building housing a coffeeshop/restaurant, also selling crafts and books, but really it is so much more.
There is a bakery/ kitchen at the back that produces cakes,scones, lunches and other goodies for our coffee-shop using mainly organic and home-grown ingredients. Good simple food! Our scones are famous.
There is also an interesting selection of books,especially children's picture books, and many little gifts or crafts -candles and pottery, greeting cards and crystals, wooden toys and jewellery.
Yet this is not the most important part of it.
An Tearmann is a busy and meaningful meeting point for many locals. It is run by a team that includes people of many abilities and at times this may also require tolerance.
It provides the threshold across which the Bridge Community meet and welcome the wider community of Kilcullen and beyond.
It is where we sit down together. Where everyone is welcome, where each is included and many people dwell an hour or more over a cup of coffee while they read a book, where regulars get slagged and on occasion get up to get their own cup of coffee. Where people witness the drama of day to day life yet leave with a smile on their face.
Labels like "normal" or "disabled" lose their significance - It can put it all into perspective.
No matter whether someone works as a waitress, at the till, in the bakery / kitchen which supplies all the food or whether they fold the napkins, everybody is part of a team that has to contribute towards "An Tearmann" - our famous coffee and bookshop.
Manypeople comment on the atmosphere, the people, the banter - It is no ordinary coffee-shop! And as far as a sense of being needed goes - it's hard to beat the satisfaction of serving a customer (with a smile of course).
An Tearmann is open 9.30am -5pm Monday to Saturday